What is the big deal about oral sex?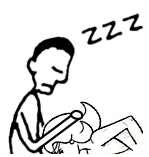 I often wondered why oral sex seemed to drive other guys crazy. In porn, guys seemingly shoot across the room from oral sex. Our male culture, and pornography, tells us that blow jobs are one of the best parts of sex.
Not for me. Whenever I was fortunate enough to get a blow job, my penis would go limp after about a minute. I never felt enough stimulation to stay hard, let alone to orgasm or even ejaculate. I never understood the fascination with blow jobs. I attributed all the blow jobs in porn to acting and being just another facet of erotic fantasy.
I resigned myself to never having mind blowing oral sex.
Then I learned what circumcision does to men. I was circumcised when I was a baby and I never thought about it until recently. Being circumcised was normal to me. I never associated the irritation from rubbing against my underwear with my lack of a foreskin. I never knew that my glans was a mucous membrane and was supposed to be glossy and supple, with a pinkish-purple color. I never knew that circumcision removed the most sensitive parts of the penis. I never knew that what was left after circumcision gradually became less sensitive as the exposed tissue toughened up from rubbing against my clothing.
I also learned about foreskin restoration. I learned that I could regain a lot of what I lost. I began restoring my foreskin just as I reached my 50s. All the good things I heard about restoring are true. Also, the more I restore the more I believe all the good things I heard about oral sex.
As my skin grew, I regained a lot. My glans and inner foreskin remnant changed texture and color. When I started restoring my foreskin, my whole penis was the same color and looked like the skin on the rest of my body. After I grew enough skin to keep my glans covered and protected, my clans and inner foreskin changed. They started to turn pink. Then they got smooth, loosing the rough, wrinkled texture. Over a period of several months, my glans and inner foreskin started looking like mucous membranes.
Along with the change in appearance came a change in sensitivity. I can now lightly run a fingertip along my glans and feel it. Even better, when I lightly run a fingertip along my inner foreskin remnant it feels delightful. It never felt like that before. Even better still is the gliding action from my restored foreskin rolling back and forth over my glans. The gliding of my foreskin produces a sensation I never felt before.
Foreskin restoration has made a big difference in my sexual pleasure. I am not yet done restoring. The difference it has made in my sexual life so far motivates me to continue restoring.
Also, for the first time in my life, blow jobs feel really good. No more do I go flaccid from oral sex. For years I told myself that I would marry any woman that could make me orgasm from oral sex. I never worried about anyone being able to collect on that. At least not until now. Before I started restoring I told my girlfriend that blow jobs did not drive me wild. She accepted the challenge. Now that I am restoring my foreskin, she has gotten me very close to orgasm from oral sex. As I keep on restoring, she may yet get me off from oral sex. OMG, what did I get myself into?
This is Peter's story. Peter is a guest blogger who does not mind telling how circumcision has affected his sex life. He is restoring his foreskin and is very happy with his increased sexual pleasure.
I thank Peter for sharing an intimate part of his life on the Restoring Tally blog. He confirms that male infant circumcision harms men and is a practice that needs to stop. ~ Tally
Related Links: