SPAMMERS go away!
by Tally on April 20, 2014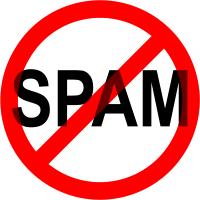 I hate SPAM.
I hate it when spammers SPAM.
Two days ago the web hosting service for RestoringTally restricted access to the site because the site was overloading the server.
After a bit of investigating I determined that I was getting so much SPAM in a short period that the server processing was more than my shared hosting account could handle. So they shut me down.
The spammers were leaving several comments per minute. Generally I get between 2000 and 4000 SPAM comments each day. Some days are worse than others. And some times are worse than other times. Each comment goes through my SPAM filters and also goes through Mollom, a SPAM filtering service I use to keep SPAM off the site. It work very well. There are days where 1 or 2 SPAM comments may get through and are published. I manually delete them.
Well, the SPAM peaked a few days ago and my web hosting service forced my hand. Until I find a better way to handle comments I have disabled comments on RestoringTally. The comments that have been left can be read. But no new comments can be left for now.
Under every post is the statement to Login to post comments. The link works, but no one can login to the site except me and a select few.
If someone must really leave a comment, please click the Contact link at the bottom of the page. You can send me a message with your comment. I will see that it gets posted, provided it is not SPAM. Be sure to tell me what post the comment applies to.