Intactivism: Week in Review June 26, 2010
by Tally on June 26, 2010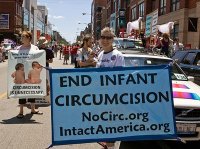 Say no to circumcision - support intactivism. The following list includes blogs, articles, and websites of interest to Intactivists that were published in the past week. This is a running tally of the ones I found interesting.
This week very little has been written about circumcision. Maybe everyone is at the 40th annual San Francisco Pride Parade, the Chicago March against circumcision June 27th, the 41st Annual LGBT Pride March in New York, or the Boston Pride Parade. Intactivists will be participating in each of those events.
Everyone is encouraged to participate in local events. The more people that are educated about the harm of genital cutting, the more likely we will see an end to infant circumcision.

Monday, June 21, 2010
Handcancel Magazine: DC: Handcancel Stacks Digital Capital
The blogger says, "Every so often I have to use this blog to remind people that circumcision is wrong." He reminds everyone that male circumcision is a horrible, unneeded, antiquated practice that, in 2010, is not done on a majority of boys worldwide.

Tuesday, June 22, 2010
Modern Mom: Surviving the Last Few (Very Hard) Weeks of Pregnancy...
This mom is not very modern, if modern means willing to educate herself in being a mother. The pregnant blogger is going to circumcise her son, even though she feels "bad for the pain that little guy has to go through." Huh? But she takes the circumcision decision seriously 'cuz she said, "you know, it is actually something to think about and maybe research for a minute." Evidently she did not even spend that much time researching it. But, there are an overwhelming number of comments by crunchy moms and others trying to point out that Modern Mom needs to rethink the circumcision question.

Thursday, June 24, 2010
Intimate Medicine: Circumcised vs. Uncircumcised Penis: Which Is Better?
Every man should decide for himself if he wants his penis to be circumcised or uncircumcised. There is some good info, but the article still talks about rare penile cancer and UTIs, which are two reasons that have been debunked.
Male Circumcision and HIV: Dr. Dix Poppas's Incredible Clitoris Reduction and Stimulation Program at Cornell University
Recently, news of a doctor at Cornell University surfaced. The doctor has been performing clitorus reduction surgery on little girls and then using a vibrator to see if the girls to show that the girls still have some sensitivity. The doctor's research involves performing female genital mutilation (FGM) as surgery to reduce the size of the girl's clitorus if someone thinks the clitorus is larger than normal.

June 25, 2010
The Globetrotter Parent: Circumcision: What Every Globetrotter Parent Should Know
An informative post with circumcision facts that sophisticated, well-travelled parents should know about infant circumcision. Unfortunately, many do not know how harmful infant circumcision is. The blog has some great comments with additional links and information.

Saturday, June 26, 2010
Circumcision Wisdom: Circumcision, Ethics, and Medicine
A reprint of part of the ethics discussion on Circumcision.org
Male Circumcision and HIV: MC_HIV to Document MGMBill.org Contingent at the 2010 San Francisco Pride Parade
David Wilton is planning on documenting the San Francisco Pride Parade on Sunday, June 27, 2010.

Tags: